The Boise Basin Museum was originally the Post Office. It took Postmaster James Pinney only twenty-nine days to build the Montgomery Street post office after the second great fire in Idaho City destroyed the first one on Main Street. Pinney lived in part of the building and in addition to stamps; he sold books, musical instruments, pistols, magazines, knives, and toys from the post office side. Pinney also operated a circulating library. After Pinney resigned as postmaster in 1872, the building housed a meat market and later the Idaho World newspaper. It remained a post office until 1910.In 1953 the building was deeded to the city for $10 and other valuable considerations." During the Gold Rush Days in June 1958, it was opened to the public as a museum. It contains a working replica of a mining operation, pictures of many of the Idaho City pioneers and other items of interest.
In 1953 this building, a historic post office, was sold to Idaho City to be operated as a museum by the Idaho City Historical Foundation. Major restoration was later down in the 1970's to repair the roof and brick facade. During the restoration historical photos were used to return this building as close as possible to its' original state. Artifacts from the gold rush era boom have been collected and are on display within the museum. The museum sheds light on life in the 1860's as well as the operation of gold mining machinery that lead to Idaho City's existence.
The Boise Basin Museum was originally built as the Idaho City Post Office. This building was constructed after the original burnt down on May 17th of 1867. Construction took twenty-nine days to complete, replacing the prior office. The red bricks were locally made west of Elk Creek. It was maintained as a post office until 1910. As a pioneer town post office, it served many more functions than what we expect from a post office today. The Postmaster of the office resided in the building. The post office was also stocked to sell valuable durable goods from musical instruments to pistols. The post office also served as a library, providing books for borrow.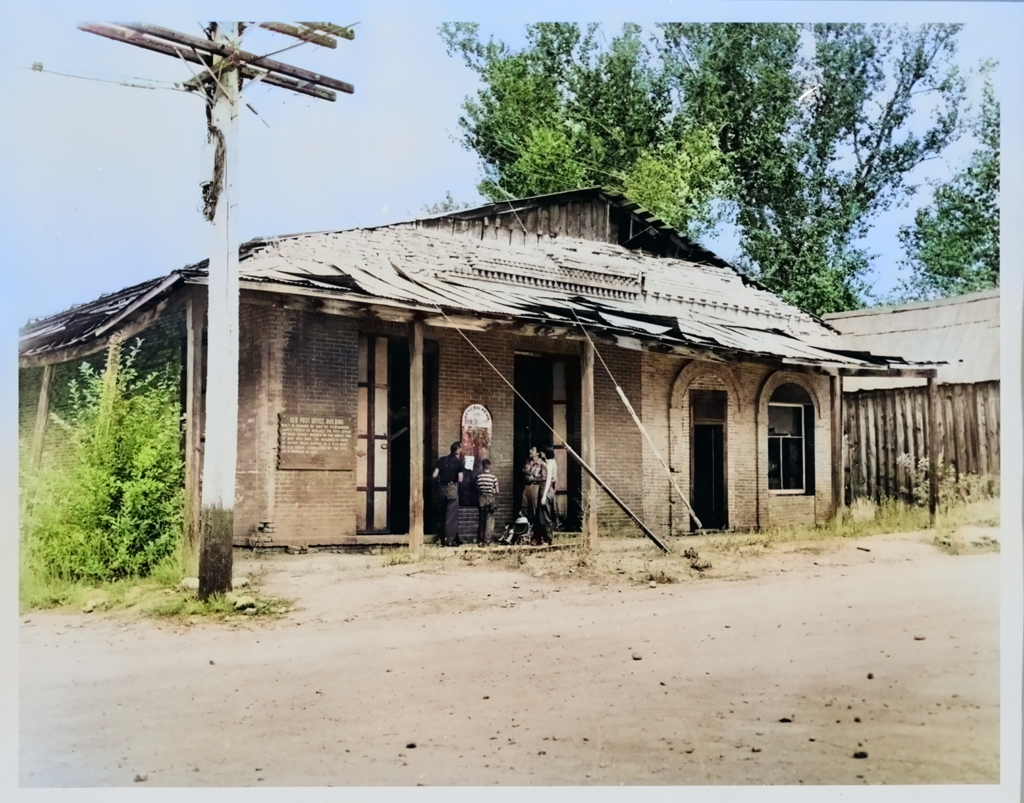 Post Office circa 1953, image has been colorized. Damage restored in 1970's can be seen, missing brick facade, parts of roof nearing collapse. Image considered public domain from Library of Congress.
Sources & Additional Information