Stroll through the park, marvel at the relics, and imagine the excitement, back breaking labor, joy, and heartbreak of Idaho City's boomtime.
 The trail features the reconstruction of the 3-Stamp mill by Sam Aarons, a dredge sprocket that ran the "digging ladder" on a dredge with a stand built by Dave Selene, a compressor donated by the Al Larsen family from the Golden Chariot mine and other mining artifacts owned by the Foundation. 
Dredging is a type of placer mining that allows for larger scale mining. These machines operated on the same principle as gold pan mining, gold is heavy. The buckets would scoop from the river, carrying the rock, dirt, and hopefully gold. The material would be rinsed and filtered through screens, with gold settling to the bottom.
A stamp mill is designed to crush rock. In Idaho, granite and porphyry rocks would be crushed to expose any gold contained within. The crushed rocks would then be panned or sluiced to separate the gold from the rock material. Stamp mills can come in various sizes and complexity, from manually powered stamps to large steam powered machines.
Learn More about Historic Mining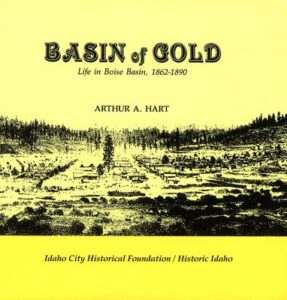 Read the First Chapter of Basin Of Gold
Basin of Gold: Life in the Boise Basin, 1862-1890 by Arthur Hart (Idaho City, Idaho: Idaho City Historical Foundation, 1986)
A Chinaman's Chance: The Chinese on the Rocky Mountain Frontier by Liping Zhu (Niwot, CO: University Press of Colorado, 1997)
Gold Camps and Silver Cities: Nineteenth Century Mining in Central and Southern Idaho by Merle W. Wells (Moscow, Idaho: Idaho Bureau of Lands, Bureau of Mines and Geology, 1985)
Gold Rushes and Mining Camps of the Early American West by Opal Holmes Fisher and Vardis Fisher (Caxton of Idaho, 1968)
Idaho: Gem of the Mountains by Arthur Hart and Merle Wells (Northridge, CA: Windsor Publications, 1985)